Week of 12/22: Beyonce rises to no. 1; Kendrick Lamar & Dem White Boyz debut
December 22, 2013, 11:29 | by Ben Bernier, CEO
---
ON THE CHARTS

With another record-shattering album being released last week, Beyonce rises to an incredibly well-deserved no. 1 spot. The self-titled visual album also debuted at no. 1 on the Billboard 200 last week, and is looking at another week atop the chart this week. Beyonce sold over one million copies in just six days; setting records all across the world. The album is exclusively on iTunes, and can not be purchased anywhere else.

Kendrick Lamar rocketed onto the charts this week, with the title track of his 2013 album good kid, m.A.A.d city. The song debuted at no. 7 on the Hot 20, ensuring it a no. 2 spot on the Hip-Hop songs chart. Although the album did not chart, Lamar takes the biggest debut on the carts this week. He was recently nominated for seven GRAMMY awards, including Album of the Year (for good kid, m.A.A.d city) and Best New Artist.

Vine sensations Dem White Boyz released their debut single "Keep Ur Eyes on Me" last Sunday, which debuted at no. 12 on the Hot 20 this week. The music video was also released last Sunday, and has already racked up almost 50,000 views on YouTube. The stars—Baylor, Cole and John Stephen—are best friends who went viral this year on Vine. With over 3 million followers, they are the eighth-most followed people on Vine.

Passenger tops the Hot 20 for a second week, with "Let Her Go". The song debuted on the Hot 20 at no. 4 three weeks ago, and rose to the top spot last week. "Let Her Go" also tops the Rock Songs chart. A Great Big World's "Say Something" rises another two spots to no. 2, just below the top spot. The duo topped the chart two weeks ago, then fell to no. 4. Flo Rida also falls three spots, from. no. 2 to no. 5 this week.

Other chart toppers this week include Britney Spears' Britney Jean (Pop Albums), R. Kelly & 2 Chainz's "My Story" (R&B Songs), Kacey Musgraves' "Follow Your Arrow" (Country Songs) and Same Trailer Different Park (Country Albums), and Fatboy Slim's "Eat Sleep Rave Repeat" (Dance Songs).
Powered by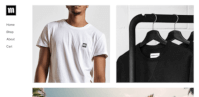 Create your own unique website with customizable templates.